Meet Dr. Dean Janssen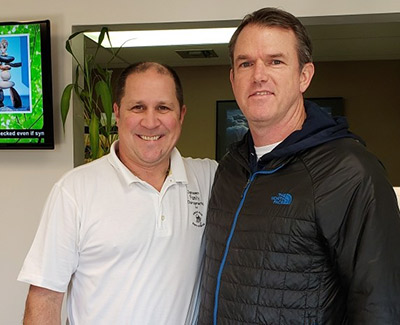 Dr. Janssen had always been an active teenager growing up. In high school, playing sports was his life; until one autumn night, everything changed. "The car my friends and I were riding in lost control and struck a wall and two trees head-on."
Getting Limited Results From Chiropractors and Orthopedic Surgeons
For the next five years, Dr. Janssen lived with terrible lower back and leg pain, which would keep him up many nights. He saw several chiropractors at this time, each with limited results. One chiropractor rubbed hot gel on his back under a heating lamp. "I thought, 'Is this what chiropractic was all about?'" Needless to say, Dr. Janssen didn't feel much better.
He even sought help from several orthopedic surgeons. One surgeon told Dr. Janssen that he had the back of a 50-year-old, and given his age, no surgeon would touch him. "I felt like I had the plague." The doctors' suggestion at this time was drugs, drugs and more drugs. That solution did not interest Dr. Janssen.
As fate would have it, I met a chiropractor in 1989 who changed the outcome of my life completely. I had all but given up. I was resigned to the fact that my back would never feel right again.
Experiencing Relief for the First Time
For Dr. Janssen, two things stuck out and made this experience different. "First, the chiropractor accepted no excuses. I remember him saying that he was there for me, not the other way around. I had to allow him to help me. He did not want to accept mediocrity or failure for me."
"It was just the kick in the pants I needed." The second thing Dr. Janssen noticed was that the chiropractor was excellent and skilled at using his hands. For the first time, Dr. Janssen felt real change and "adjustments" happening within his body.
Embarking on a Chiropractic Education
Dr. Janssen was so pleased with his experience that he quit his sales job with Motorola, sold his car and bought a beat-up '76 Oldsmobile. He drove to Marietta, Georgia, to attend Life University of Chiropractic. There, he earned a Doctor of Chiropractic degree.
"I had to find out what chiropractic was all about." Dr. Janssen was amazed by all the similar stories and experiences that people shared at chiropractic school. "I thought to myself, 'There's a whole new world out there, apart from sickness and disease.'"
On a Personal Note
Dr. Janssen and his wife Lisa, who manages the practice, have two sons, Daniel and Nathan. Now teenage boys, the young men have been adjusted since birth. Dr. Janssen practices what he preaches by eating a healthy diet and exercising daily. Getting proper rest and having a good mental attitude are crucial as well.
---
Dr. Dean Janssen | (401) 847-5311