Looking for a Chiropractor Near Portsmouth, Rhode Island?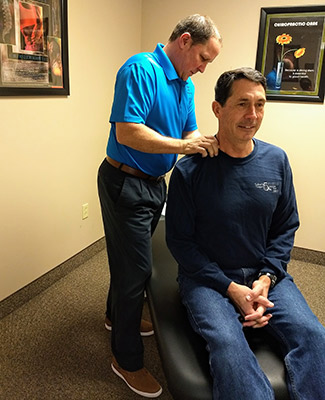 So you're thinking about chiropractic care? Join the club, more and more people are choosing chiropractic for its natural drug-free approach to health care. The real question remains, how do you choose? Well let's start with…..
EXPERIENCE
Dr. Dean Janssen has been in solo practice for over 25 years. As a local Rhode Islander, graduating Hendricken HS in 1985 and the University of Rhode Island in 1989, Dr. Janssen committed to his education and training at Life Chiropractic College in Marietta, GA, where he graduated Magna Cum Laude in 1995. Following which he entered private practice in Pompano Beach FL until 2003. Following the birth of his oldest son, he and his wife Lisa decided to head back to RI and open a family chiropractic practice.
LOCATION
Janssen Family Chiropractic is located in the Middletown Commons Plaza on Aquidneck Avenue in Middletown which is centrally located for all Aquidneck Island residents. Dr. Janssen has been serving Portsmouth families for over two decades.
TECHNIQUES
Dr. Janssen implements the latest adjusting styles, yet blends them with the most traditional and trusted chiropractic techniques. Providing "hands-on" care and treatment is what his office is all about.
What Makes Dr. Janssen A Different Type Of Chiropractor??
Dr. Janssen believes in a 'no-pressure' environment. There is never any pressure to up sell patients on additional services, therapies, or supplements. The focus at Janssen Family Chiropractic is always quite clear, 100% chiropractic care. The Janssen Family Chiropractic mission is simple…
To treat you like family.
To treat you the way that I want to be treated as a patient.
To treat you in a way that I know works.
Dr. Janssen and his wife Lisa, who manages Janssen Family Chiropractic, aim to offer patients a unique and personalized experience. Their combined effort and focus is getting to know patients on a deeper level allowing them to identify tendencies, weaknesses, and habits which may be hindering a patient's progress. Dr. Janssen admits, "Together we can make a difference. The bottom line is, patients have goals and it is our purpose to help patients reach these goals".
What Conditions Does Dr. Janssen Treat??
Chiropractic medicine successfully treats many different types of pain. Here are some of the conditions we see on a regular basis…
Chronic and Acute Lower Back Pain
Headaches and Dizziness
Chronic and Acute Neck Pain
Shoulder and Arm Pain
Hip and Knee Arthritis
Plantar Fasciitis and Tennis Elbow
Spinal Stenosis
Sciatica and Leg Pain
And many other types of pain.
Trusted Personal Injury Treatment Near Portsmouth, RI
While Janssen Family Chiropractic is a predominately family practice, Dr. Janssen has considerable experience treating personal injury patients. Over the course of his 25 year career, he has treated well over 500 personal injury patients. Quite often, patients are released from hospitals and walk-in centers without much treatment or analysis. Patients are typically left with little treatment options other than medications. It is fair to say there are chiropractic treatment options available which are usually quite successful. Dr. Janssen gets a lot of satisfaction helping these sometimes difficult cases. He also believes getting checked soon after an accident is critical. If you live in Portsmouth RI and have recently been involved in an auto accident, you should highly consider contacting Dr. Janssen for an initial evaluation.
I'm Looking For A Chiropractor Near Portsmouth, How Do I Get To Janssen Family Chiropractic??
Janssen Family Chiropractic is located on Aquidneck Ave in Middletown, Rhode Island. For a patient looking for a chiropractor near Portsmouth, just head North on Rt. 138. Our office is only 5-15 minutes from any part of Portsmouth.
We are located in the back of the Middletown Commons plaza at 850 Aquidneck Avenue in Middletown. Drive around to the back of the building, you can't miss us. But please, schedule an appointment first! We'd love to see you!
Come Find us!
---
Chiropractor Middletown Janssen Family Chiropractic | (401) 847-5311