About Us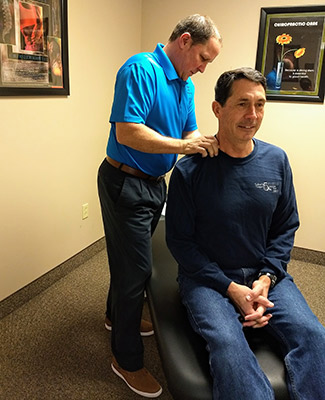 Dr. Dean Janssen has been providing safe, natural and effective chiropractic care since 1995. He is a graduate of the University of Rhode Island in 1989 and Life Chiropractic College in 1995. Before relocating his family back to Portsmouth in 2003, he had a private practice in Pompano Beach, Florida.
Returning to His Home State
Though he met his wife Lisa in Florida where they enjoyed the fantastic weather, one day they knew they didn't want to raise their family there. As a native Rhode Islander, Dr. Janssen knew he wanted to move back north to serve those in his community.
He opened Janssen Family Chiropractic with zero patients and built a successful practice from the ground up. Dr. Janssen's sons literally grew up in the office, and are now young adults. "I've had patients say to me, 'I remember when your kids were in the "Pack 'n Play" in the back room.' Now my sons come here on a day off and sit at the front counter, answer phones, greet patients and even make appointments." said Dr. Janssen.
Dr. Janssen's Mission
To treat you like family.
To treat you the way that I want to be treated as a patient.
To treat you in a way that I know works.
We offer patients information, hope and advice as we move through their care plan and our journey together. Dr. Janssen says he likes to inform patients, without preaching or force- feeding them because ultimately, they are the ones in control of their own success or failure.
We are simply an instrument in search of the best result. "Isn't that what chiropractic is all about? The bottom line is it's all about you," says Dr. Janssen.
MEET DR. DEAN JANSSEN »

Our No-Pressure Environment
Perhaps you've been to other chiropractic offices and felt pressured into signing up for expensive and extended long term care plans. In our practice, you will never feel forced into coming in more than is needed to achieve your desired results. You're a unique individual with specific goals, not a number or a conversion. Our goal is to provide you with the chiropractic care and the choices and options you need to get well and stay well-no more and no less.
Get Started Today
Contact our chiropractic care center today to book an appointment. Most insurance is accepted.
---
About Janssen Family Chiropractic | (401) 847-5311